Introducing the Knowledge Center
One of your best weapons in the quest for better fitness is knowledge. That's why we just launched the Knowledge Center. It's your go-to resource for great information on exercise, nutrition, supplements, motivation, and more. Whether you need a Getting Started guide for weight loss or you want to learn about programs like Starting Strength, you can rely on Fitocracy for all your fitness questions. We even have fitness-friendly recipes to fit your lifestyle :)
"What's your fitocracy?"
-itfitslikeaglove
It's Lita, plain and simple. :)
"I joined Fitocracy but I'm not sure I understand what it is or how it works. Could you give a brief tutorial? Sorry if you already have but I didn't see one. Thank you!!!"
-Anonymous
I was about to write out a guide to it, but then I found this Tumblr, which does it much better than I ever could.
Announcing: The Great Sherlock Fitness Challenge!

Maybe you want to get in shape for a massive parkour-style Believe in Sherlock flyering run. Maybe you need to harpoon a dead pig, or you want to be prepared to fight off mysterious strangers with swords in your flat. Maybe you just want to lose 10 pounds in case you ever get to meet Benedict Cumberbatch. If any of those are true, this is the contest for you! It's fairly simple:

Sign up for Fitocracy, a great website for geeks who want to get in shape. You level up by collecting points through various types of exercise, and by completing exercise "quests" along the way.
Join the BBC Sherlock group on Fitocracy, and click the "Join Challenge" button in the left sidebar.
Between now and June 3rd, get the word out as much as possible through Twitter, Tumblr, Facebook, carrier pigeons, and more. Once the challenge starts, no one will be able join it, so we need to make sure as many people as possible hear about it before it starts.
Between June 3rd and July 1st, exercise! And make sure you log it in Fitocracy. You can get points for everything from taking the stairs instead of the elevator to running a marathon.
Once the challenge ends on July 1st, prizes will be awarded as follows:

1st place: $50 gift credit to antieuclid's Random Emporium, the web's best source for round geek humor, including Sherlock and Cabin Pressure buttons.
2nd place: $20 gift credit.
3rd place: $10 gift credit.
Random drawing: Two $10 gift credits will be given to winners selected at random from everyone who participates, so even if you're not a gym bunny, you still have a chance to win!

So let's get in gear to make Sherlockians the fittest group in fandom!

[edited to add:] The always awesome Cara McGee has generously offered to supplement the prizes with some of her incredible fandom teas! So you'll be able to jog your way to a triumphant future of tea and buttons.

[edited to further add:] We've got an official challenge Tumblr going, and we're encouraging people to tag Challenge-related posts with "SherlockFit" to make it easy to keep in touch and cheer each other on.
"What's your un on fito?"
-Anonymous
"Lita"
"Thank you so much for bringing Fitocracy to my attention! I've only been on it for a day but I'm loving the leveling system, and I'm already getting props for what I thought was a rather pathetic work out, I suppose a small work out is better than no work out at all! Thank you again!"
-vootcruiser
"I just saw your post about fitocracy and signed up! :) First thing I did was add my princess half race from Sunday in Disney... now what? lol."
-kortniann
Now what? Now's when you have fun! Complete your profile, join some groups, check out the forum, try some new exercises, try to complete a quest or two.It sounds weird, since Fitocracy is a fitness site, but I've made some very good friends on the site. :)
The Florida Fitocracy Meet-Up Wrap-Up
As I mentioned a few times, there was a Fitocracy meet-up on Saturday for people in the Orlando area, put together by members of Florida Fitocracy Frenzy. I found out about it only a few days ahead of time, but luckily I had that day off of work so Jeremy and I could go.
The plan was laser tag and then dinner and drinks, and it was a blast.
The group of us, nine people including Jeremy and myself, all showed up to Hard Knocks around 1 in the afternoon, right as they opened. Now, Hard Knocks isn't your typical laser tag place. There's no black lights, no fog machines, no techno music playing. Instead, you're carrying heavy, heavy guns (that have realistic range and clips) and completing a variety of missions in either a house, a warehouse, or an office.

(Photo used with permission of @tehman)
We shot each other, ran around, and discussed the pros and cons of the different guns. I myself prefer the small pistol as it was the only thing I could easily carry.
We also did a bit of sitting around and talking while we cooled down and waited for more office missions. I think we were all biased towards the office since it's a huge space with lots of cover and corners.

(Photo used with permission of @usfjoygirl)



(Photo used with permission of @tehman)
After a few hours of laser tag (or, as we described it, paintball with lasers) we drive to a UCF bar nearby called The Moat. I had no idea what to expect, but it was a cool place with tons of food. Burgers, pasta, lots of appetizers, etc.

(Taken by Jeremy, @Drevix)
We were at a big long table, so the conversations got divided at times, but we all got to chit-chat and get to know each other.

(Thanks, waitress, for snapping this for me!)
After we had all eaten, I was eyeing the dessert menu. @miamijuggler, to my left, got a slice of key lime pie, and I decided to get a piece of chocolate cake since they were out of most of their desserts at the time.
But I was not expecting such a huge slice.

(Photo used with permission of @MLVV)
Yeah, it was huge. I ended up sharing bits of it with many people at the meet-up, then taking about half the slice home for Jeremy to chow on later.
All in all, the meet-up was amazing. And a couple of the people live near me, so we can keep in touch a lot easier!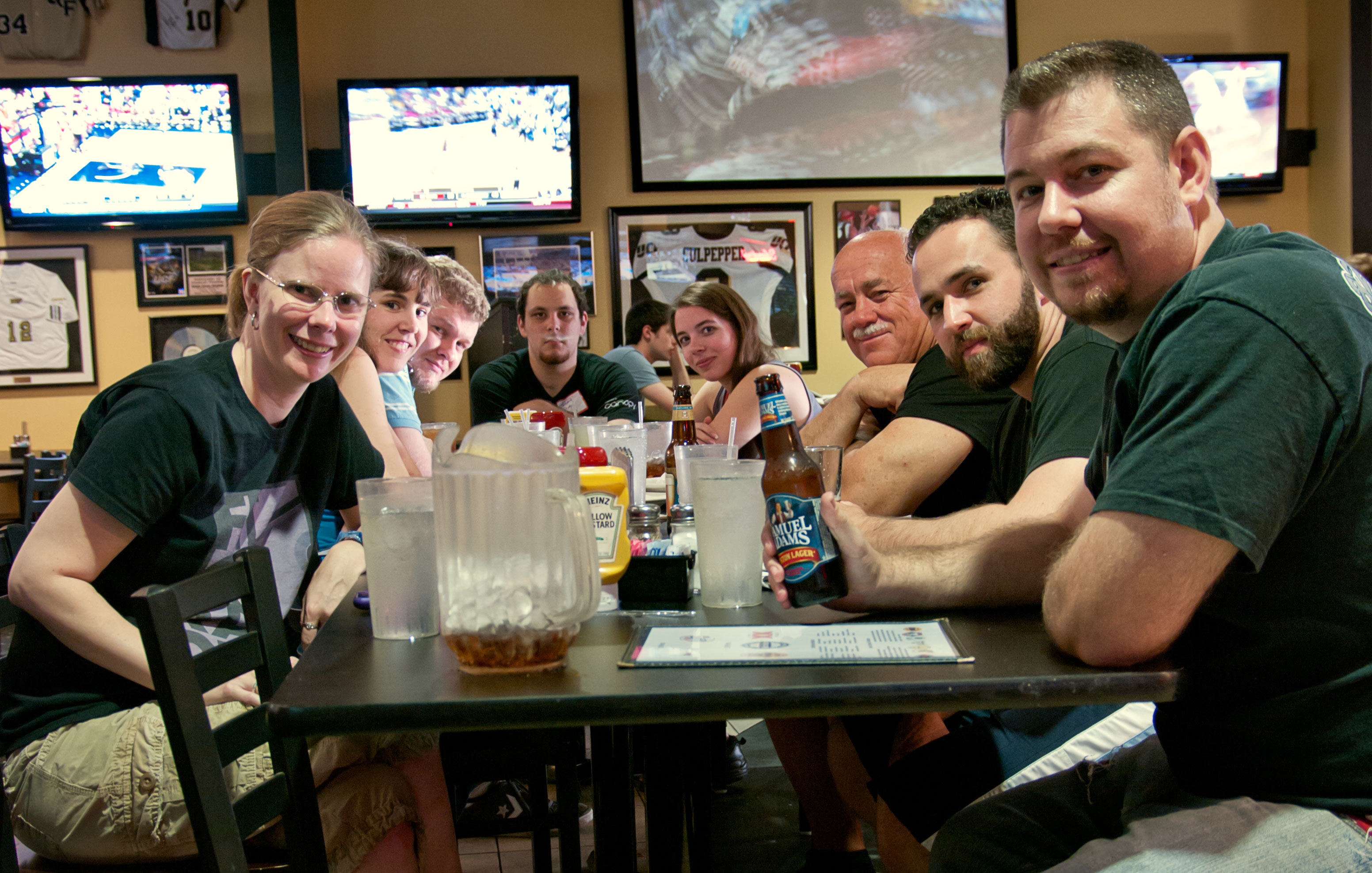 (Photo used with permission of @miamijuggler)
"Same thing with inner thigh lifts !! I looked all over and couldn't find anything close. Made me sad cause my legs BURN from doing them. Great stuff!!"
-teacup-dream
Yeah, I haven't found anything similar on Fitocracy, so I just put them as Other Bodyweight. Sad face.